Drude Dahlerup
Professor emerita of Political Science at Stockholm University and honorary professor at Roskilde University
e-mail: drude.dahlerup@statsvet.su.se –  or drude@ruc.dk
Deltager i Arbejdermuseets Podcast om Kvindernes Internationale Kampdag, 8.marts: https://lnkd.in/eAKZeY7G
Okt.2022  Drude Dahlerups interviewes om køn og politik af Nikoline Nybo fra Ladies First Network (in Danish):   https://lnkd.in/e6ya34tR
November 2021. My first book(let) in Spanish:
CONFERENCIAS MAGISTRALES
TEMAS DE LA DEMOCRACIA
No 36 Drude Dahlerup: 
November 2021:   Expert Report for UN Women written by Drude Dahlerup: 
"Women in Decision-Making in Public Life:   Types, Usage, and Effects of Temporary Special Measures, Including Gender Quotas".
Publication EGM/CSW/2021/EP3.  November 2021 (Draft published September 2020). Download the report from this link:
Mission to Nigeria, April-September 2021 , see under int. consultancies
Price awarded
Nov.11, 2020 the Danish Political Science Association awarded the Erik Rasmussen Prize to Drude Dahlerup, professor emerita at Stockholm University and honorary professor at Roskilde University – as a pioneer of gender research in political science and an expert of women's political representation and participation and gender quotas for elections.
#genderpolitics #politicalscience #womenequality
Ny bog:
Anette Borchorst & Drude Dahlerup (red.):
Konflikt og Konsensus. Det danske ligestillingspolitiske regime udkom på Frydenlund Academics den 2.okt. 2020.
Medforfattere: Jørgen Goul Andersen, Maria Thiemer, Mari Teigen, Lise Agustín Rolandsen og Ditte Shamshiri-Petersen
Webinar om bogen på Kvinfo, 2.okt. kl.16-18.     konflikt og konsensus_forside.2
Hanane Darhour & Drude Dahlerup (eds.):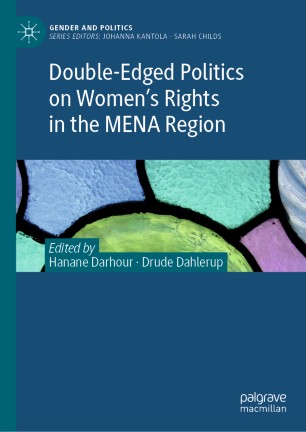 Palgrave's website shows the
content of the book and brings 1-2 pages
from each of the 11 chapters at:
https://www.palgrave.com/gp/book/9783030277345
Mexico City, Mexico, Oct. 2019. Speeches on "Democracy and Gender", invited by National Electoral Institute (Instituto Nacional Electoral): Oct. 23, Magistral Conference, INE, and Monterrey's Technological Institute of Higher Education, South Campus; Oct.24, at Universidad Nacional Autónoma de México, UNAM.
New publication: Dahlerup, Drude. "Gender Quotas in Politics." In Oxford Bibliographies in Political Science. Ed. Sandy Maisel. New York: Oxford University Press, forthcoming 2019.
NY bog, udkommet 25.okt. 2018:  Demokrati uden kvinder?
Forlaget U Press
"Der synes at være opstået en ny modreaktion mod feminismen"
Med opdaterede facts om køn og ligestilling globalt og i DK sætter Drude Dahlerup FN's verdensmål i relief med sin bog Demokrati uden kvinder? – den udkom oktober 2018.
"At tilbageskridt i ligestillingen er en reel risiko, er for mange andre lande i verden ingen nyhed. Men det er først for alvor gået op for os i de gamle demokratier efter valget af en sexistisk og racistisk præsident i verdens hidtil stærkeste magt og med udviklingen af illiberale partier og demokratier i visse europæiske lande. Der synes i visse lande at være opstået en ny modreaktion mod feminismen – en anti-gender-bevægelse mod kvinders og seksuelle minoriteters rettigheder – og det, længe før fuld ligestilling er blevet en realitet."
Kvinder i politiske beslutningsprocesser:  Drude Dahlerup giver med denne bog et seriøst bidrag til en skrantende dansk debat om ligestilling og køn. Hun spørger med fokus på kvotering, hvorfor det trods mange års fremgang skal tage så lang tid at opnå fuld inklusion af kvinder i det politiske liv. "Kvinder har kun en fjerdedel af pladserne i verdens parlamenter, og i de nye globale styresystemer er kvinderepræsentationen endnu mindre." – Dahlerups svar er baseret på hendes mangeårige forskning. Bogen bringer eksempler fra hendes arbejde som international konsulent omkring integrering af kvinder i politiske beslutningsprocesser. Den danske udvikling sættes ind i et internationalt perspektiv.
Gender Equality as a Closed Case: A Survey among the Members of the 2015 Danish Parliament
Læs Drude Dahlerups artikel Kvindeoprøret fra Samfundsøkonomen om 68-bevægelserne.
To af Rødstrømpebevægelsens vigtigste slogans var: "Ingen klassekamp uden kvindekamp – ingen kvindekamp uden klassekamp" og "Det private er politisk". Mens det første slogan er gået over i historien, er det andet blevet højaktuelt med #MeToo-bevægelsens globale oprør mod seksuel chikane og seksuelle krænkelser. https://www.djoef-forlag.dk/openaccess/samf/samfdocs/2018/2018_2/samf_2018_2_4.pdf
Visit to Ljubljana, Slovenia, May 7-10, 2018, see under What's New.
MY NEW BOOK:
My book, Has Democracy Failed Women?, is available from Polity: http://politybooks.com/bookdetail/?isbn=9781509516360
The book is part of Polity Press' new series 'Democratic Futures' , written for a general audience, and for scholars and students.
Why are women still under-represented in politics? Can we speak of democracy when women are not fully included in political decision-making? Some argue that we are on the right track to full gender equality in politics, while others talk about women hitting the glass ceiling or being included in institutions with shrinking power, not least as a result of neo-liberalism.
 In this powerful essay, internationally renowned scholar of gender and politics Drude Dahlerup explains how democracy has failed women and what can be done to tackle it. Political institutions, including political parties, she argues, are the real gatekeepers to elected positions all over the world, but they need to be much more inclusive. By reforming these institutions and carefully implementing gender quotas we can move towards improved gender equality and greater democratization.                       
Table of Contents
Chapter 1: Exclusion without words
Chapter 2: Breaking male dominance in politics
Chapter 3: The impact of Gender Quotas
Chapter 4: Gendering Public Policy
Chapter 5: Women in global politics
Reviews
"Drude Dahlerup offers an interesting, lucid and challenging arguments about the many relationships between gender and democracy. Wide ranging and well informed this book is clear and accessible. It should be read by anyone interested in either or both of feminism and politics."
Joni Lovenduski, Professor Emerita of Politics, Birkbeck College
"Authored by one of the pioneering scholars of gender and politics, Has Democracy Failed Women? offers a wide-ranging overview of developments and debates regarding women's political empowerment in global historical perspective. Drawing on decades of research and extensive consulting experience, Drude Dahlerup concludes that democracy has failed women, but women can revitalize democracy, providing a powerful impetus for future studies and advocacy for more women in political life."
Mona Lena Krook, Rutgers University
Two 4-stars reviews on Amazon:
David Keymer:
"Dahlerup is not a ranter or a raver. She writes a cool, deliberate, decidedly temperate prose, and she doesn't propose a cookie cutter solution to the problem."
Worddancer Redux is more critical, however also gives the book 4 stars.
"A useful book as these short Polity books often are. I wish that the pacing had been better, though."
See more reviews under publications
---
Public speeches, see  under What's New.
Gender Quotas in Central and Eastern Europe.
"Legitimacy and Effectiveness of Gender Quotas in Politics in Central and Eastern Europe." Special section of the Slovenian journal Teorija in Praksa (in English), edited by Drude Dahlerup and Milica Antic Gaber. Available at  http://www.fdv.uni-lj.si/revije/znanstvene-revije/teorija-in-praksa/iz-vsebine/teorija-in-praksa-2-(2017).
Mission to Bhutan for The Danish Institute for Parties and Democracy, DIPD, March 6-10, 2017, see under consultancy.
Mission to the Ivory Coast, June 30-July 1, 2016, see under consultancy.
Ny bog (New book: Before and After Suffrage. 2015, in Danish):
Anette Borchorst og Drude Dahlerup (red.): Før og efter stemmeretten. Køn, demokrati og velfærd. Udkom 2.nov. 2015: Før og efter stemmeretten_pressemeddelelse
Se Drude Dahlerup i udsendelsen "Kvindestemmer" om rødstrømpeaktionen, som var lige ved at gå i vasken – på youtube: https://www.youtube.com/watch?v=afbXDQqCf2Q eller se under 'videos' på denne hjemmeside,
Mission to Kenia July 13-17, 2015.
As a gender quota expert, Drude Dahlerup was part of an IPU-mission to Kenya in July, see under Consultancy. 
 100 years of women's suffrage, see what's new.
 *Recent titles:
"Drude Dahlerup: "From Feminist Activist to Professor" , pp.75-100 in Rekha Pande (ed.), A Journey into Women's Studies. Palgrave Macmillan 2014.
Drude Dahlerup: "The Critical Mass Theory in Public and Scholarly Debates", pp. 137-63 in Rosie Campbell and Sarah Childs (eds.), Deeds and Words. Gendering Politics after Joni Lovenduski.  ECPR studies 2014.     20150127165335016
Drude Dahlerup: "Representing Women: Defining Substantive Representation of Women, pp. 58-75 in Maria C.Escobar-Lemmon and Michelle M.Taylor-Robinson (eds.). Representation. The Case of Women. Oxford University Press. 2014.  Substantive.20150825134520681
 *Recent book: Breaking Male Dominance in Old Democracies. Oxford University Press. 2013.
Edited by Drude Dahlerup, Stockholm University, and Monique Leyenaar, Radboud University Nijmegen
Unique, in-depth, longitudinal comparative approach